Artificial grass has become one of the most popular materials for use on sports fields and golf courses across the world. The popularity of this material is based on a wide variety of factors – however possibly the most important of these is the fact that artificial grass or turf is extremely low maintenance and does not require watering.
This makes the material an extremely attractive option for those who are faced with water restrictions or who might want to explore the option of designing a garden with succulents or native plants. By using artificial grass the garden owner can save considerable amounts of money on maintenance and water usage.
The questions most often asked of homeowners considering it as a replacement for a natural lawn is:
Can I install it myself?
The answer is Yes – in fact you can. Artificial grass installation is very simple and can be accomplished by homeowners with even a very limited amount of experience of do-it-yourself projects. Of course the smaller the area, the easier the job. Installing a putting green is a far cry from laying down an entire lawn!
Another common question is:
How much does residential artificial grass cost?
Installation cost is another factor in the decision-making process. If you are on a tight budget, doing the work yourself can save you a good amount of money. But whether or not you choose to hire an installer or tackle it as a DIY project you should familiarize yourself with the steps. Read on to see how to install artificial grass.
Installing Artificial Grass – The Basics
As with many projects – your success will be completely dependent on the preparation. The actual artificial grass installation itself may only take a few hours once the ground is ready and materials are purchased. However, there are many steps to complete before you are ready to law down the lawn.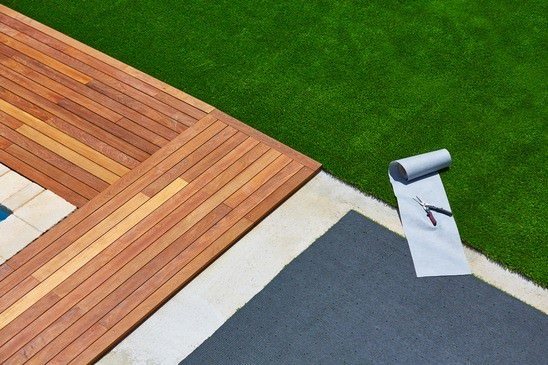 The first step – measurement of the space where the artificial grass installation is to take place is required in order to make sure the amount purchased is sufficient to cover the required surface area. Most artificial grass is purchased in the form of rolls so those installing it should ensure that the width of the roll is taken into account.
Once you have calculated the square feet that are required then take this measurement to your supplier who will advise you how many rolls are required. With the material in hand, you will be in a position to undertake the first step in the installation process which is the preparation of the base. Please note: some types of artificial grass do not require a base and can be immediately installed. Consult your supplier for more information on the base recommended for your purchase.
For most installations, some preparation of the land will be required. Specialty equipment will be used such as a spade or turf-cutter, an under-felt, a utility knife or box cutter, a compacter, weed membrane, and ground fixing pins. Tools such as a mastic gun may also be required. In addition, adhesive and joining tape may be required for a professional-looking finish. If this seems over-complicated don't worry – the actual installation is relatively easy – and your supplier will be able to give you all the hints and tips required to finish the project successfully.
Do It Yourself Artificial Grass Installation Steps
Whether you choose to hire a professional installer or take this on as a DIY project, it is a good idea to familiarize yourself with the overall process. Here are the steps that need to be taken in order to successfully install great looking artificial lawn.
1. Prepare the Ground.
The first step will be to remove any existing grass or sod. Dig the soil to a depth of 1-1/2 to 2-1/2 inches, till it to remove any larger rocks or roots, then rake the soil to an even layer.
2. Place the Weed Membrane.
The weed membrane will prevent wild seeds from germinating on the artificial lawn. Make sure that it's good quality. Weeds in artificial lawns can make maintenance extremely challenging.
3. Apply the Base.
There are 3 components to applying a base.
First, pour a layer of composite granite or crushed stone over the weed membrane the rake it smooth. This layer will provide good drainage for your new lawn. Pack it down firm to create a solid base.
On top of this base, apply a layer of sand – firm it down and smooth it out again.
Finally, a cushioning layer can be applied for extra shock absorption. This is an optional step, but a good idea if the turf will be used as a play around.
4. Lay Down The Grass.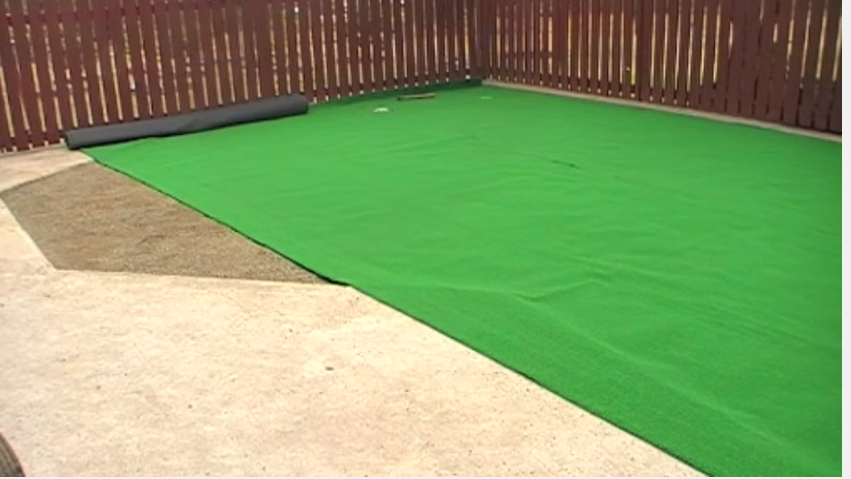 It's now time to roll out the artificial grass, cutting it as needed to fit your landscape. It is a good idea to leave about 2 inches of extra space on the edge until you have placed all the grass. Leave the grass to settle overnight in order to ensure that you won't have wrinkles when the project has finished. Once the settling has occurred, secure the edges with spikes or staples. Then trim to fit properly.
5. Join The Edges.
If you need multiple pieces they will need to be joined together. Lift each edge and place the fiber taping at each join. Peel back and make sure that the fit is correct prior to tamping down. Some tape will require the addition of mastic to ensure that the fit and join are waterproof and can withstand bad weather. Reinforce the joins with turf pegs.
6. Trim The Edges.
At this point, you will be ready to get your artificial grass into tip-top shape. Use a cutting tool such as a box cutter to cut back the edges and ensure a snug fit to your required area of artificial turf.
7. Apply the Infill.
A thin layer of sand should be applied to the top of the grass to stabilize it and prevent the turf from shifting. Use a brush to evenly distribute the sand into the groves. Other infill materials include silica granules or crumbled rubber. The type of infill used can help to keep the lawn warmer or cooler as needed.
8. Enjoy!
The final step in the process is to simply step back and take a look at the low-maintenance lawn that you have successfully installed. Enjoy the fruits of your labor and the low cost of ownership that artificial grass will give you.
VIDEO: Home Installation
See how one homeowner created a play area with turf for their kids.